Although Rock music is now considered art by most, it is not without a sense of humor. Probably since the beginning, artists have worked little jokes and amusing phrasing into their work to amuse listeners. And, of course, sometimes humor finds its way into a song without the performers' intent. For example, Paul McCartney accidentally mixed up Desmond and Molly's roles in the last verse of The Beatles' "Ob-La-Di, Ob-La-Da" ("Desmond stays at home and does his pretty face/And in the evening she's a singer with the band"). What are some of your favorite comical moments in music?
The idea that inspired this thread was The Angels' 1963 hit recording of "My Boyfriend's Back."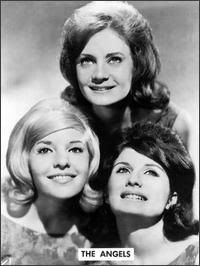 The song is about a guy who was spreading lies about the singer being unfaithful because she wouldn't go out with him while her boyfriend was away. As the title indicates, her boyfriend's back now, and the singer warns him about the repercussions. In itself, this doesn't seem quite so funny, but when you hear a group like The Angels – angels probably being the greatest single archetype of kindness and compassion – sweetly sing lyrics like these
You're gonna be sorry you were ever born
'Cause he's kinda big and he's awful strong
Hey, he knows I wasn't cheatin'
Now you're gonna get a beatin'
You can't help but be amused by the dichotomy of a group of girls sweetly singing about a guy getting the living daylights beaten out of him.