Are you kidding? What does calling the president have to do with anything? You clearly don't get it. The calls that should have been made were to neighboring states. The governer's job is to call in her own help. The president can't do a thing till the state gives up its power!!! Now you wanna say that the president wasn't home???? The president sent a memo and she refused help! Why would she "call back"??? We go over and over this, and you simply don't seem to get it. The power is with the state not the federal government. Try to read this as proof to this.
From Newsweek:
Bush, the governor later recalled, was reassuring. But the conversation was all a little vague. Blanco did not specifically ask for a massive intervention by the active-duty military. "She wouldn't know the 82nd Airborne from the Harlem Boys' Choir," said an official in the governor's office, who did not wish to be identified talking about his boss's conversations with the president.
The denial and the frustration finally collided aboard Air Force One on Friday. As the president's plane sat on the tarmac at New Orleans airport, a confrontation occurred that was described by one participant as "as blunt as you can get without the Secret Service getting involved."

A debate over "federalizing" the National Guard had been rattling in Washington for the previous three days. Normally, the Guard is under the control of the state governor, but the Feds can take over—if the governor asks them to. Nagin suggested that Lt. Gen. Russel Honore, the Pentagon's on-scene commander, be put in charge. According to Senator Vitter, Bush turned to Governor Blanco and said, "Well, what do you think of that, Governor?" Blanco told Bush, "I'd rather talk to you about that privately." To which Nagin responded, "Well, why don't you do that now?"

The meeting broke up. Bush and Blanco disappeared to talk. More than a week later, there was still no agreement. Blanco didn't want to give up her authority, and Bush didn't press.
Clearly a case of Blanco digging her own grave.
This is for Mayor Nagin: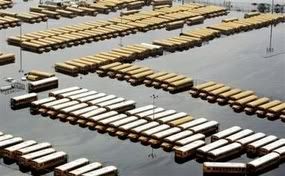 Here is from the Baton Rouge radio station hmmmm:
WWL: What do you need right now to get control of this situation?

NAGIN: I need reinforcements, I need troops, man. I need 500 buses, man. We ain't talking about -- you know, one of the briefings we had, they were talking about getting public school bus drivers to come down here and bus people out here.

I'm like, "You got to be kidding me. This is a national disaster. Get every doggone Greyhound bus line in the country and get their asses moving to New Orleans."
WHO WAS IN CHARGE OF THE BUSES AND WHAT HAPPENED TO THE EFFORT?
FACT: Available Buses Were Not Used To Evacuate Before The Hurricane: "Some 200 New Orleans school buses sit underwater in a parking lot, unused. That's enough to have evacuated at least 13,000 people. Why weren't those buses sent street by street to pick up people before the storm? A draft emergency plan, prepared by the Federal Emergency Management Agency and obtained by NBC News, calls for "400 buses to ... evacuate victims." Yet those 200 buses were left in Katrina's path." (Lisa Myers, "What Went Wrong In Katrina's Wake?" MSNBC, 9/6/2005)
"New Orleans' own comprehensive emergency plan raises the specter of 'having large numbers of people ...stranded' and promises 'the city ... will utilize all available resources to quickly and safely evacuate threatened areas.'" (Dan Harris, "Who's to Blame for Delayed Response to Katrina?" ABC News, 9/6/2005)
"The city's evacuation plan states: 'The city of New Orleans will utilize all available resources to quickly and safely evacuate threatened areas.' But even though the city has enough school and transit buses to evacuate 12,000 citizens per fleet run, the mayor did not use them. To compound the problem, the buses were not moved to high ground and were flooded. (Bob Williams, Op-Ed, "Blame Amid The Tragedy," The Wall Street Journal, 9/6/05)
FACT: Additional Personnel Was Not Recruited To Move The Disabled: "The plan also states that 'special arrangements will be made to evacuate persons unable to transport themselves or who require specific lifesaving assistance. Additional personnel will be recruited to assist in evacuation procedures as needed.' This was not done." (Bob Williams, Op-Ed, "Blame Amid The Tragedy," The Wall Street Journal, 9/6/05)
FACT: Lessons From Past Failures Were Not Addressed Or Were Repeated: "A year ago, as Hurricane Ivan approached, New Orleans ordered an evacuation but did not use city or school buses to help people evacuate. As a result many of the poorest citizens were unable to evacuate." (Bob Williams, Op-Ed, "Blame Amid The Tragedy," The Wall Street Journal, 9/6/05)
"Fortunately, the hurricane changed course and did not hit New Orleans, but both Gov. Blanco and Mayor Nagin acknowledged the need for a better evacuation plan. again, they did not take corrective actions." (Bob Williams, Op-Ed, "Blame Amid The Tragedy," The Wall Street Journal, 9/6/05)
WHOSE IDEA WAS IT TO USE THE SUPERDOME?
FACT: Mayor Nagin Ordered The Superdome To Be Used As Shelter: "Nagin ordered a mandatory evacuation for the city's 485,000 residents and opened the Superdome as a shelter of last resort, bluntly warning those who stayed that they would be at the mercy of Katrina's high winds, 28-foot storm surge and 15 inches of rain that threatened to overwhelm the city's protective levees." (Brett Martel, "New Orleans Flees, Braces, Prays As Monstrous Hurricane Katrina Bears Down," The Associated Press, 8/29/05)
"Instead of evacuating the people, the Mayor ordered the refugees to the superdome and convention center without adequate security and no provisions for food, water and sanitary conditions." (Bob Williams, Op-Ed, "Blame Amid The Tragedy," The Wall Street Journal, 9/6/05)
"Plenty of missteps at the local level contributed to last week's disaster too, from a failure to take basic steps to protect the telecom infrastructure to inadequate food and water at the superdome. New Orleans may be able to stage events such as Mardi Gras and Jazzfest and provide parking, crowd control and adequate toilets for millions of visitors, but its hurricane plan was more rudimentary." (Robert Block, Amy Schatz, Gary Fields and Christopher Cooper, "Power Failure" The Wall Street Journal, 9/6/05)
"Get people to higher ground and have the feds and the state airlift supplies to them - that was the plan, man,' Mayor Ray Nagin said in an interview ..." (Robert Block, Amy Schatz, Gary Fields and Christopher Cooper, "Power Failure" The Wall Street Journal, 9/6/05)
FACT: Lessons From Past Failures Were Not Addressed Or Were Repeated: "In 1998, during a threat by Hurricane George, 14,000 people were sent to the superdome and theft and vandalism were rampant due to inadequate security. Again, these problems were not corrected." (Bob Williams, Op-Ed, "Blame Amid The Tragedy," The Wall Street Journal, 9/6/05)