Sgt. Pepper's
Lonely Hearts Club
Band
Written by Henry Edwards. Directed by Michael Schultz.
Produced by Robert Stigwood. 1978, 112 minutes, Stereo
Rated PG. (RSO-Universal Pictures)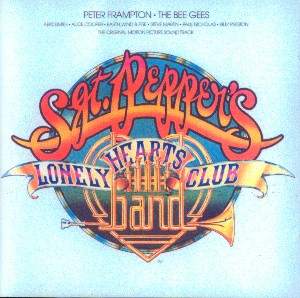 Peter Frampton
Bee Gees (Barry Gibb, Robin Gibb, Maurice Gibb)
George Burns
Donald Pleasance
Frankie Howerd
Sandy Farina
Dianne Steinberg
Paul Nicholas
Steve Martin
Alice Cooper
Aerosmith
Stargard
Earth, Wind & Fire
Billy Preston
* The greatest rock movie ever made. 6X Platinum double-LP soundtrack.

In the Summer of '78, two rock musicals hit movie theatres. One was
Grease
. The other was
Sgt Pepper's LHCB
. (Both films were choreographed by the talented Patricia Birch.)
Pepper
was a clever conceptualization of several Beatles songs featured on the original 1967
SPLHCB
LP and the 1969
Abbey Road
LP. (A smooth harmony rendition of the 1965 single "Nowhere Man" was thrown in for good measure.)
These
Lennon/McCartney
songs, and one by
George Harrison
plus many characters found by name in their lyrics were incorporated into a storyline that has good versus evil and there's greed and lust and power and success, and mystery, and comedy and tragedy and redemption.
We hope you will enjoy the show . . .
As far back as World War I, the four-man marching band led by Sgt. Pepper had the gift of instilling peace and joy in those who heard their music. In the midst of a ground battle between Germans and Brits, as bombs went off and buildings crumbled and open flames were rampant, a magical peace befell all the soldiers and they ceased fire as Sgt Pepper's Lonely Hearts Club Band came marching thru the wartorn street, playing their familiar fanfare.
As decades went by and times changed, Pepper's band went in and out of style, and were playing during the Roaring 20s, the Great Depression, and WWII. In August of 1958, Sgt. Pepper, now an old bearded man, was honored in his hometown (Heartland) on the band's fiftieth anniversary. The city of Heartland unveiled a lifesize sculpted bronze weathervane of Sgt Pepper to mount atop the city hall. "To always point toward happiness," The Mayor
Mr. Kite
declared.
As Sgt. Pepper, in his fancy epelletted uniform, began to play his heart-shaped silver coronet on the gazebo in the centre of town, he suffered a heart attack...he went down playing sour notes...and died. The Lonely Hearts Club Band, old bearded men themselves, held their instruments and watched in disbelief.
"August Tenth," Mr. Kite will tell you. He is the white-suited Mayor of Heartland (and portrayed by wizened 81 yr old actor George Burns). Mr. Kite narrates the movie and he explains the backstory of Pepper's longrunning band and his death on the day of his weathervane ceremony and how the four instruments (coronet, tuba, drum) are kept in a place of honor in the hands of lifesize wax figures of the band inside city hall.
Mr. Kite also tells how the time came for Pepper's grandson
Billy Shears
destined to carry on the family tradition of the Lonely Hearts Club Band. Billy's cousins,
The Hendersons
(brothers Mark, Bob, and Dave) joined this new band, they playing guitars, bass and drums. All four boys do vocals and sound great together.
Their hometown is
Heartland USA
and it is a wonderful and special place and it's clean and happy and peaceful and there is an abundance of love and joy.
On the 20th anniversary of the day Pepper died, the
new Lonely Hearts Club Band
performs on the gazebo in the center of town and there is a huge crowd.
Billy's brother
Dougie Shears
, who is the band's manager, takes in hand the silver heart-shaped coronet that Mr. Kite hands him on the white steps of city hall. Dougie holds it up for all to see. They cheer. With a wireless microphone in his other hand, Dougie runs thru the crowd as he sings the introduction of this special event.
"It was twenty years ago today...Sgt. Pepper taught the band to play...."
As the band does the rockin' maintheme fanfare, Billy is in the crowd flirting with his girlfriend, a pretty redhaired girl named
Strawberry Fields
. "The one and only Billy Shears..." That's his cue. Billy runs to the stage to sing
"A Little Help From My Friends."
When Billy gets to the line about
"what do you see when you turn out the lights? I can't tell you but I know it's mine..."
He winks and smiles at Strawberry who then blushes and smiles.
After the gazebo show and the crowd has dispersed, Mr. Kite stands alone there in town and he fantasizes about being a rockstar. He performs
"Fixing a Hole"
and there is a great moment of timing when two little pigtailed girls sitting on the steps suddenly sing "la, la, la, la la" on cue.
B.D. Brockhurst
, a wiley pimped-out record producer in L.A. sends a telegram to Heartland instructing the band to cut a demo tape and send it to him asap. The band cuts
"Getting Better"
live on tape and during the performance, we see a montage of B.D in his slick business setting with groupies and gold and platinum awards and all signs of success. We see him hanging out with his premiere girl group:
Lucy & The Diamonds
. He takes an 8x10 photo of the Pepper Band and files it away in a folder marked:
SUPERSTARS.
(B.D. is played by Donald Pleasance who is almost unrecognizable compared to his other 1978 film role= Dr. Loomis in
"Halloween"
)
Meanwhile, as
"Getting Better"
continues,
Mr. Mustard
arrives in Heartland, in his nasty dingey yellow bus than boasts on its side in faded lettering: Mustard Real Estate. He is mean, dirty, grouchy old man and always wearing mustard yellow, and he has two black droids working for him. Mr. Mustard is a pawn for a greater force of evil that is yet unrevealed to us. Mr. Mustard spies Strawberry thru his TV monitor. He wants her. Yeh, he wants Strawberry Fields.
B.D sends word that he likes the tape and wants the band to come to L.A. The band is excited and the night before they leave Heartland, Billy and Strawberry have a tender moment overnite and wake up in a hayloft as amber rays of sunrise pour in. Strawberry sings
"Here Comes The Sun."
As the song is ending, Billy has met up with his band, and Dougie, in the center of town and they pile in a heart-adorned hot air balloon. As it lifts into the air, Strawberry waves goodbye.

The dark, guitar-driven blues-erotica
"I Want You (She's So Heavy)"
is the most appropriate soundtrack for the band arriving in Los Angeles and their meeting B.D. and his groupies as they ride in a long-ass stretch convertible limousine. The characters take turns singing
"I want you. I want you so bad. It's driving me mad."
to someone they want...for a record deal..or for sex....etc. B.D sings it to the band as a whole. He wants this band to exploit for $$$$$.
Lucy
, the sexy, uniformed chaffeur peers in the rearview mirror and sings
"I want you"
to a shy Billy. Then the cocksure Dougie Shears sings it to Lucy.
The Diamonds
, three girls in Lucy's group are lounging by the pool at B.D's mansion and they sing it to the guys then they all get friendly with each other.
The instrumental portion is long and ever-darkening as it serenades the dinnerparty at which B.D. gets the Hendersons and Dougie to sign (their souls) to a contract. After each guy signs, he is suddenly wearing a BD Records company t-shirt. But Billy is the lone hold-out. He hasn't signed.
B.D. drugs Billy's champagne glass and Lucy is part of the conspiracy. Make Billy drink. Yes, that's it. Billy. Drink up. The whole band at this point is wasted and making out with the Diamonds. Four uniformed mater-de's stand in a row and toke. Lucy escorts the doped-up Billy to a dark bedroom and on the record-shaped bed they lay, and she finally gets his signature on the long contract. As the droning
"She's So Heavy"
riff becomes a swirling hypnotica, the bed turns round and round like a record as Billy is seduced by Lucy. Fade to black.
"Good morning! Good morning!"
The band wakes up and the climb to stardom begins with recording sessions and photo shoots and tour dates and we see the actual factory pressing of the white-covered Sgt Pepper's LHCB LP. The band is a big hit.
Meanwhile back in Heartland . . .
On his big TV monitor in his bus, Mr. Mustard gets orders from his boss (
F.V.B
) to steal the magical Pepper instruments. Mr. Mustard and his bus driver Brute (also clad in yellow) tie up poor old Mr. Kite and they steal the instruments. Brute hops on a motorcycle with sidecar and takes off to distribute the instruments to the other evil cohorts in this organization that wants to destroy love and take over the world.
Now that the instruments are gone from Heartland, darkness and decay befalls the town and it suddenly becomes corrupt with litter and prostitutes and red neon signs and seedy motels and the whole sleazy shebang.
"Mean Mr. Mustard"
as sung by he and his two droids is the soundtrack to this depiction of Heartland's descent into porn, drugs and crime.
Strawberry and her parents and friends gather in her livingroom and tune in and watch the Sgt Pepper's TV special (the band does
"Nowhere Man" and "Polythene Pam"/"She Came In Thru The Bathroom Window"
)
The Fields family is proud for the band but Strawberry is sad and lonely. She goes to her bedroom and as an instrumental interlude of "Long and Winding Road" plays, she hugs a teddy bear and cries herself to sleep.
"Wednesday morning at five o'clock as the day begins..."
Strawberry leaves home, leaves behind a note for Mom & Dad, and she takes a Greyhound bus to go and find Billy.
"She's Leaving Home"
is vocally performed by Mr. Mustard's droids and Strawberry's parents. "Bye, bye..."
The droids wake Mr. Mustard to alert him that the girl has left town. He is agitated and starts up his yellow bus and sets out to find her.
When Strawberry gets off a Greyhound bus on a well-lit city street in nighttime L.A., she is standing before the BD Records building with two giant billboards on the roof. One billboard is advertising the Pepper band and the other billboard advertises Lucy & The Diamonds. Strawberry hallucinates that the billboard figures come to life as she watches from the sidewalk.
"Picture yourself in a boat on a river...."
Triggered by a flash of light at the chorus, the Pepper band likeness comes to life and the guys are in silver Pepper uniforms.
They pair up with the girls and Strawberry is jealous to see Billy covorting with the scantily-clad long-legged Lucy.
Realizing it was just a dream, Strawberry begins walking. Cut to
"Oh! Darling"
sung by a Henderson (Robin Gibb) as they cut it in the studio. Strawberry comes in and knocks on the glass and disrupts the session. She gets Billy aside and explains about the terrible things that have happened at home. Much to B.D's chagrin, and Lucy's disappointment, Strawberry gets Billy and The Band to split and head for Heartland.
In the parkinglot tho, they see Mr. Mustard's bus. They commandeer it while he has gone inside to find Strawberry. The bus speed aways leaving Mr. Mustard & Brute stranded. On board, the guys discover the droids and the TV messages from F.V.B. Billy finds the stolen Pepper drum. With help of the TV messages, they learn where to go find the other instruments.
Dr. Maxwell
, a silver-haired, strange, demented, horny, plastic surgeon and all-around weirdo in clinical garb.....he has the stolen silver coronet. At the tail end of Steve Martin's hilarious rendition of
"Maxwell's Silver Hammer"
the Pepper Band bursts in and retrieves the coronet in a struggle with Dr. Maxwell and his malevolent medicial minions.
Next, they seek the tuba. It is in the possession of
Father Sun
, a former loser who has become a busy media charlatan using video imagery to brainwash young people for F.V.B to form an army. On a giant TV screen, Father Sun performs a very psechedelic
"Because"
as a group of students, dressed in scout uniforms, are seated and chant and stare at the TV as the song brainwashes them.
Billy and Band sneak in and grab the tuba and smash the video equipment. Billy grabs a wire and is shocked by a jolt of 10,000 volts and knocked unconscious. They carry him out as they escape with the Pepper tuba.
Strawberry tends to her injured boyfriend and as tears run from her eyes, she sings
"Strawberry Fields Forever."
Her tears that fall and land on Billy's face revive him.
One instrument is still missing - the saxophone - it's the one F.V.B has but the boys don't know where F.V.B is. To help restore Heartland, they plan a Benefit concert and return the three instruments. The band comes riding into Heartland on a decorated Mustard bus leading a parade with carnival atmosphere.
"For The Benefit of Mr. Kite, there will be a show tonight..."
The featured act at that night's concert (which B.D. is bootlegging on soundbaord) is
Earth, Wind & Fire
, as themselves doing an excellent soulful jazzy version of
"Got To Get You Into My Life".
The group gets a standing ovation.
Meanwhile, Lucy and Dougie have finally paired up as a couple. They go inside Mr. Kite's office during the concert and steal all the bags of money from tonight's event.
"You Never Give Me Your Money"
is their duet.
Mr. Mustard and his henchman Brute have returned to Heartland during the concert and they kidnap Strawberry who was selling popcorn. Discovering his girlfriend gone, Billy and the band hop in their heart-adorned hot air balloon and pursue the mustard bus from above.
"When I'm 64" is a duet by Mr. Mustard and Strawberry. Mustard then discovers Lucy & Dougie stowawayed onboard with the money so now he has three hostages.
The balloon is not fast enough to catch up with the bus. But they will find them.
In a dark warehouse, captive Strawberry is tied bound and gagged to a giant lit
$
sign on a platform atop giant stacks of coins. Mr. Kite's voice-over explains that this is F.V.B.'s headquarters and F.V.B. is making an army to take over the world, and now Strawberry will be turned into a mindless groupie.
As drums and bass riff thunder, and "shhhhhoootttt" is a rhythmic chant,
F.V.B.
makes their entrance. The
Future Villian Band
, in mock nazi garb with jackboots etc, climbs the stair up to where Strawberry is held, and the band rocks
"Come Together."
Billy must rescue his girl. The Pepper Band battles the Villian Band and Steven Tyler and Peter Frampton go mano-e-mano in a struggle to the death high atop the stacks of coins. Tyler's cruel hands tighten around Billy's throat . . . Strawberry's cry for Billy to be careful cannot be heard due to the bandana gag tied around her mouth . . .
[[[[ That is all, up to this point, I will give away about the story. This battle during the outro of "Come Together" changes everything and fate steps in, and a life is sacrificed for Heartland.

This leads down a

Long and Winding Road

to an unforgettable

Day In The Life

.
Can Heartland and our heroes

Get Back

to where they once belonged?
Last edited by Graceland Gardener on Fri Apr 16, 2004 6:00 am, edited 39 times in total.