Sat Apr 19, 2014 9:24 pm


Its from 72.Summer i think.
I dont know the date
Anybody have a clue?
Sun Apr 20, 2014 8:40 am
this is the blue nail suit from april 1972
as far as we know elvis didden,t wore this suit
in august
and he wore this suit a few times in april
jan
Sun Apr 20, 2014 3:12 pm
Ah ok.
Nice to know
i tought it was from august.
then it must be from jan-feb?
Mon Apr 21, 2014 2:52 pm
I dont think this is the blue nail but the wheat suit!.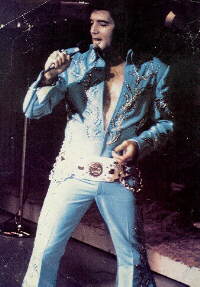 So far the only date we have of elvis wearing this suit in the aug/sept 1972 season is the September 2 DS
Thu Apr 24, 2014 12:26 am
yeah that looks more like it.
ok.so it IS from aug-sep or sep 2 DS like you said.
Thank You