.
The Italian song "Piano" ("Softly") was written by
Antonio De Vita
(10 February 1932 – 14 January 1998) and
Giorgio Calabrese
(28 November 1929 – 31 March 2016).
Antonio De Vita
was an Italian composer, conductor, arranger and pianist.
Born in Milan, De Vita graduated at the Giuseppe Verdi Conservatory in his hometown. He started his career as a pianist, accompanying artists such as
Johnny Dorelli
and
Betty Curtis
. In 1963 he debuted on television as the conductor in the variety show
La fiera dei sogni
, and from then he appeared in dozens of popular shows, including
Senza rete
,
Fantastico
and
Domenica in
.
De Vita composed over five hundred songs and musical scores.
Giorgio Calabrese
was an Italian songwriter and frequent collaborator with French singer
Charles Aznavour
.
Calabrese
also wrote the Italian version of Aznavour's famous song, "She", titled "Lei". He also wrote the Italian lyrics for the song, "E se domani", composed by
Carlo Rossi
. It was entered in the 1964
Sanremo Music Festival
.
The song "Piano" was originally an Italian success by Italian singer
Mina
, at the 1960
Sanremo Music Festival
.
Mina
published a recording of the song first as a single in 1960 and later as well on an EP and on three LPs:
.
.
South African songwriter
Hal Shaper
(Muizenberg, July 18, 1931 - Kaapstad, January 8, 2004) noticed the song and in November 1961 wrote English lyrics to the melody, calling it "Softly, as I Leave You."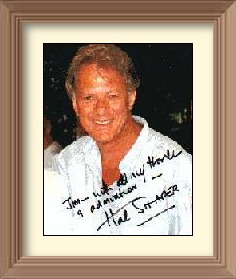 Hal Shaper
The first version of "Softly, As I Leave You" was released in January 1962, and was performed by
Matt Monro
:
.
.
This version reached #10 on the British charts in 1962.
Frank Sinatra
reached #27 on the
Billboard Hot 100
and #4 on the
Easy Listening chart
in 1964:
.
.
The Sinatra family
announced Frank's death on May 14, 1998 by placing an announcement on their website that was accompanied by a recording of the singer's version of the song.
Elvis' version was released on single on February 27, 1978, as B-side to "Unchained Melody". It was recorded on December 13, 1975:
.
.
"When he performed the song live in Las Vegas, Elvis Presley prefaced with a story about the origins of the song. Presley said the song originated when a man was dying and his wife was sitting by his bedside. As she began to doze off, he felt himself beginning to die and he wrote the words to the song on a notepad. However, Elvis insiders claim that his explanation for the song was merely an example of Presley's flair for storytelling, so his explanation is most likely apocryphal. Elvis said he heard the story "from some people in Florida.""
Just a few other versions
The Fleetwoods - 1964
.
.
Bobby Darin - 1965
.
.
Shirley Bassey - 1968
.
.
Cliff Richard with The London Philharmonic Orchestra - 1983
.
.
Michael Bublé - 2006
.
.
SOURCES
http://davidneale.eu/elvis/originals/list8.html#S1450
https://en.wikipedia.org/wiki/Softly,_as_I_Leave_You_(song)
https://en.wikipedia.org/wiki/Tony_De_Vita
https://nl.wikipedia.org/wiki/Hal_Shaper
.