.
The song "
Love Me
" was written by
Jerry Leiber
and
Mike Stoller
. Conceived as a parody of country and western music, it was initially recorded by R&B duo
Willy & Ruth
in 1954 (Spark 105), garnering a review spotlight in
Billboard
on August 14.
Willie Headen
was the lead singer of a vocal group, the
Honey Bears
and
Ruth
was the wife of another group member.
The following clip shows more artists that recorded the song, while the sound is from the
Willy & Ruth
original recording:
.
.
The original label:
Spark Records was a record label started by Jerry Leiber and Mike Stoller in January 1954. Artists released on Spark Records included Willy & Ruth, The Sly Fox, Ervin "Big Boy" Groves, and The Robins. Leiber and Stoller eventually decided that while they wanted to write songs and make records, but did not want to deal with the mechanics of publishing records, so they sold the label to Atlantic Records.
For a good overview of songs recorded at
Sparks Records
, this
Ace Records
production is highly recommended:
http://www.acerecords.co.uk/the-spark-records-story
Shortly after its release,
The Billy Williams Quartet
released the song as well. In September 1954 on
Coral 61264
. In this quartet:
Billy Williams
,
John Bell
,
Claude Riddick Jr.
&
Eugene Dixon
:
.
.
Billy Williams (December 28, 1910 – October 17, 1972) was an African-American singer. He had a successful cover recording of Fats Waller's "I'm Gonna Sit Right Down And Write Myself A Letter" in 1957. The record sold over one million copies, and was awarded a gold disc. His trademark hook for his songs was to shout "Oh, Yeah" at the end of lyrics. On April 5, 1959, the Billy Williams Quartet appeared on the Ed Sullivan show and performed a rousing version of Goodnight Irene.
Released in October 1954. A version by
The Five DeMarco Sisters
on
BRUNSWICK 45-05349
:
.
.
The DeMarco Sisters were an American close harmony singing group of the big-band era who recorded popular music and performed in concerts and on the radio, television, and on film from the 1930s through the 1960s. They first achieved fame as weekly performers on The Fred Allen Show from 1946 to 1949, and were featured singers in the 1952 film Skirts Ahoy! with actress Esther Williams. The group was initially composed of five biological sisters.
Released in October 1954 as well. An early version of
Love Me
by
Connie Russell
on
Capitol F2933
:
.
.
Connie Russell (May 9, 1923 – December 18, 1990) was an American singer and movie actress. Born in New York City, she appeared in seven films from the 1930s through the 1950s. She was far better known as a singer than as an actress, as her singing career was quite extensive.
It might be well possible that Elvis heard the song as sung by
Jimmie Rodgers Snow
. He released his version in January 1955 on
RCA Victor 5986
:
.
.
Jimmie and Elvis on December 21, 1957:
Elvis
recorded the song on September 1, 1956...
... For his second album,
Elvis
(RCA Victor, LPM-1382), issued on October 19.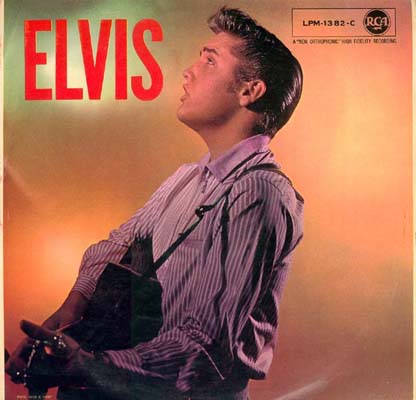 It was also released on the EP,
Elvis Vol. 1
(RCA Victor, EPA-992).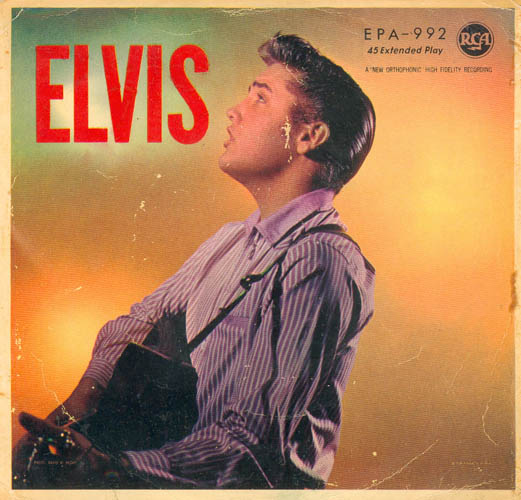 It climbed to the #2 position on the
Billboard Top 100
in the United States, a first for a title not coming from single. "
Love Me
" also peaked at number seven on the R&B chart. "
Love Me
" was not released as a single to avoid confusion with Presley's "
Love Me Tender
".
.
.
Elvis sang "
Love Me
" on the October 28, 1956,
Ed Sullivan Show
as well.
.
.
He included this song in the
1968 Comeback Specia
l:
.
.
And he often performed it in concerts in the seventies, including his last tour in June 1977.
.
.
A few other versions:
Johnny Burnette
, as released on July 1960 on his album "
Dreamin
'"
.
.
The Polish singer
Bogusław Wyrobek
in 1960. For those who think
Elvis
had no influence in
Eastern Europe
.
.
Department Of Eagles
, 2009:
.
.
Sources
https://en.wikipedia.org/wiki/Love_Me_(Leiber/Stoller_song)
https://secondhandsongs.com/work/31525/versions#nav-entity
http://www.vocalgroupharmony.com/love_me.htm
https://en.wikipedia.org/wiki/Spark_Records
https://en.wikipedia.org/wiki/The_DeMarco_Sisters
https://en.wikipedia.org/wiki/Billy_Williams_(singer)
https://en.wikipedia.org/wiki/Connie_Russell
https://www.megocollector.com/elvis-presley/rca-lpm-1382-elvis-elvis-presley-undocumented-variation-confirmed/