.
Though best known for his "Hawaiian" music,
Harry Owens
was born in Nebraska. However, he became musical director of the
Royal Hawaiian Hotel
, Honolulu, in 1934, where he mixed traditional instruments with those more commonly used by American dance bands.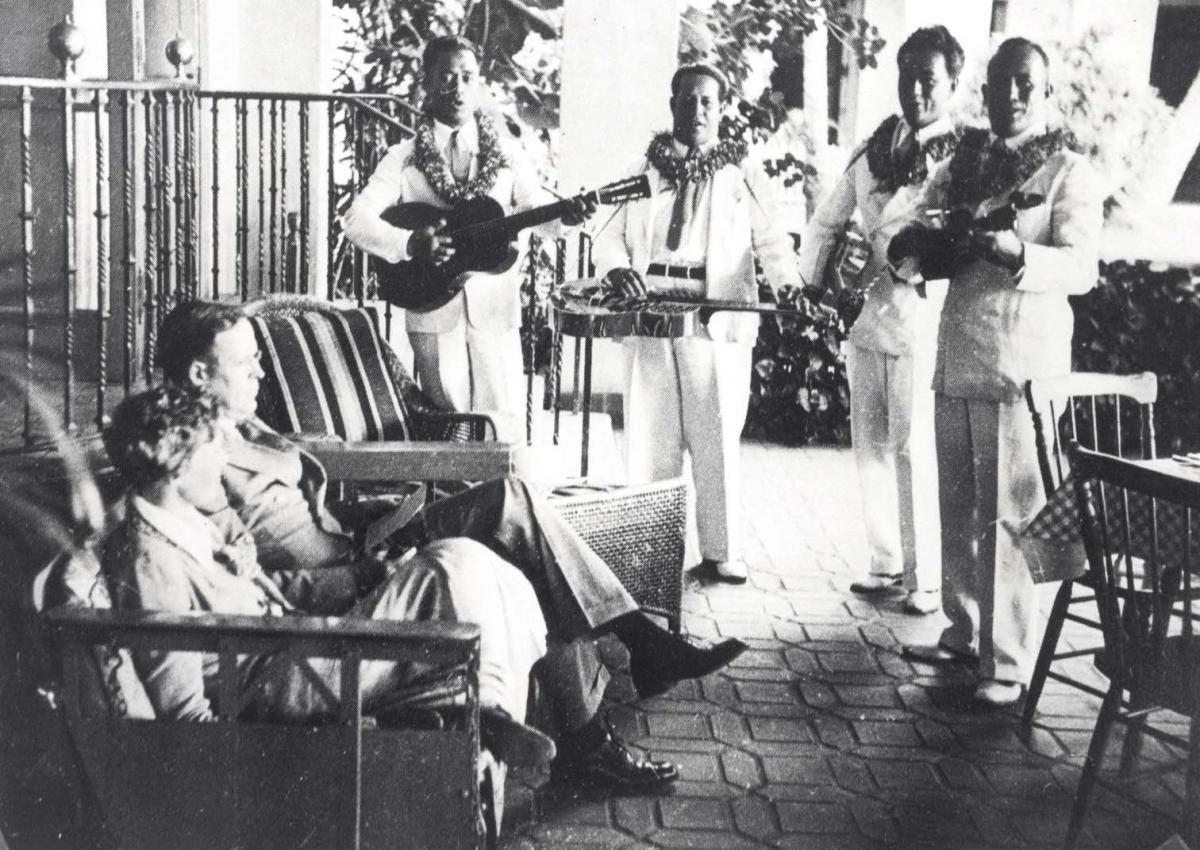 Royal Hawaiian Hotel musicians, January 2, 1935.
That same year he wrote "
Sweet Leilani
" for his daughter. The name Leilani is made up of two Hawaiian words, Lani, meaning heavenly, and lei, meaning a wreath or garland of flowers.
Sol Ho'opi'i
recorded the number on October 6 1935, the recording being released on Brunswick 55085 with the title "
Leilani (Wreath of Heaven)
." Sol Ho'opi'i is considered to have been one of the greatest exponents of the Hawaiian guitar and was at least influential in the development of the electric guitar in the early 1940s.
.
.
"Sweet Leilani"
became a big hit for
Bing Crosby
in 1937, when he sang it in the film "
Waikiki Wedding
," earning an Academy Award for Song of the Year and giving
Crosby
his first gold record.
.
.
Elvis'
s version is a home recording, never intended for release.
Recorded : Perugia Way, Bel Air, Los Angeles, November 1960
There were two versions of this song recorded that day. Both can be found on FTD-
In A Private Moment
. Elvis is accompanied by
Nancy Sharp
on this song.
.
.
One of the comments to this YouTube clip:
A few other versions
Rosemary Clooney & Harry James - 1952
.
.
Marty Robbins - 1957
.
.
Andy Williams - 1959
.
.
Sam Cook - 1960
.
.
Chris Isaak - 2010
.
.
SOURCES
http://www.poplartunes.nl/sweet_leilani.html
http://www.hawaiipictureoftheday.com/author/hawaii-aviation/
http://aviation.hawaii.gov/aviation-pioneers/amelia-earhart/photos-of-amelia-earhart/
http://davidneale.eu/elvis/originals/list8.html
https://secondhandsongs.com/work/138494/versions#nav-entity