All that said (and nice reference, RJM!), some of the sad reality is that not even his show was as bad sounding
as we'd previously believed.
It would have been better if it was more of a bomb - instead, as the tape testifies
for one of the shows, it was a troubled but not horrific show as many had come to believe. One doesn't
root for Elvis to bomb, but had it done it more often or more publically, it would have finally
become fodder for the Enquirer, the Star and mainstream press. Yes, that started to happen,
but mostly before it was too late and nearly loud enough.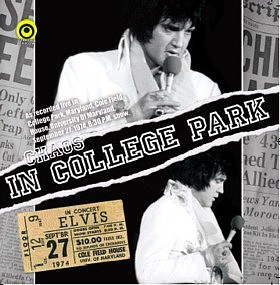 "Chaos In College Park" - Elvis Presley (Straight Arrow, 2006)
As Piers wrote in his review in the revealing if controversial (here at least) release:
Verdict - If you like Elvis at his best then there is no point in getting this CD. Buy 'Elvis Live', 'That's The Way It Is', 'At The International'

or, if you want something from 1974, 'Live In Memphis' instead. If you are interested in examining Elvis' legacy even further then performances like 'New Year's Eve 1976/77', 'Closing Night' or 'Spring Tours 1977' illustrate even more.

However there is no doubt that this is a worthy release as it sounds so different from the previously dreadful 'All Gut' CDR, revealing Elvis' performance for what it really was.

Yes, it was a poor concert but it certainly destroys the myth that it was Elvis' worst ever performance

. Hard-core Elvis collectors will find this fascinating..."
from:
'Chaos In College Park' : Was this Elvis' worst concert? - CD Review
http://www.elvisinfonet.com/cdreview_ch ... epark.html
I had a chance to drive by that arena a few years ago and imagine him in there. Then I came across someone who saw the show
(and also saw Zeppelin, Bob Marley and others back then) who went with her mother as a teen and told me: "I thought it
was a great show!" Another one who barely noticed anything wrong. We know it but it's apparent the man could
waffle through many a show in cruise control, throw some sparks and many could not tell the difference.