Nancy's memory may be a bit foggy after all these years, but she was definitely at Caesar's in Aug. and Sep. of 1970.
"In August 1970, Nancy made her Caesars Palace debut in its main showroom, as the hotel celebrated its fourth anniversary. The August 22, 1970 issue of Billboard described the "fully developed variety show" as follows:
"Very reminiscent of a vaudeville bill, the show featured Miss Sinatra performing segments with slots allotted to her associates, the Blossoms and Osmond Brothers. The 10 Hugh Lambert Dancers were an added ingredient as were light drops which filled the stage and flower decorated swings for the girls to sit on, but not swing with."
Nancy is pictured with Donny Osmond."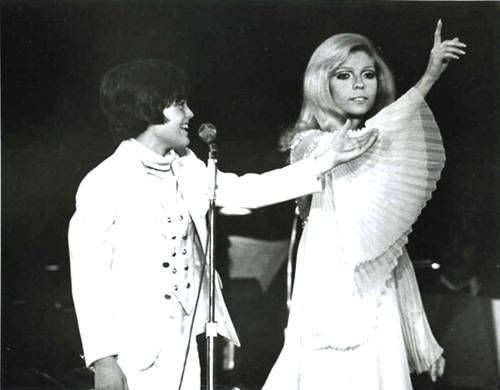 "The September 12, 1970 Billboard reported on the show's great success:
"The Nancy Sinatra Show at Caesars Palace broke all existing records for business done for one week of 14 performances in Caesars Palace's Circus Maximus."
The program for the show (pictured below) indicated plans for the TV production which ultimately became known as Movin' With Nancy, On Stage:
"For her premiere engagement at Caesars Palace, Miss Sinatra has mounted a spectacular, brilliantly paced show which may shortly be translated into a television production."
Here is a great article describing Nancy's history in Vegas.
http://nancysinatra.com/blog/2011/05/re ... more-30368