PStoller wrote:I was not in the business back then. I can ask around, but I doubt L&S made any direct submissions to Parker. That said, the '73 cuts were based directly on versions cut by T-Bone Walker in June of '73: someone must have rushed the T-Bone recordings to Elvis. It could easily have been Bienstock, who was a partner with L&S in the Hudson Bay Music Co. from 1969-1980.
Neat information, Peter.
Since you say T-Bone's sessions for
Very Rare
were completed in June, the songs almost certainly were presented to Felton Jarvis and Elvis on pre-release acetate.
Elvis cut "If You Don't Come Back," "Three Corn Patches" and "Just A Little Bit" in
July
at Stax, and Walker's album was not issued until
October
: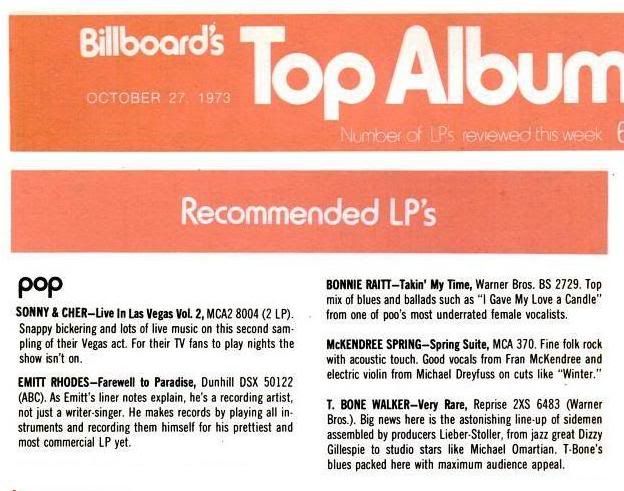 Billboard - Oct 27, 1973
Elvis' album with these recordings was out only two weeks after T-Bone's set: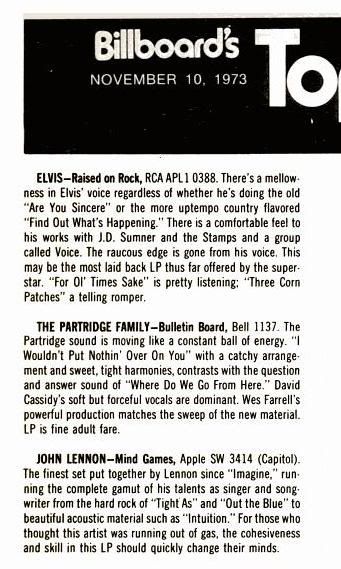 Billboard - Nov 10, 1973
That review is kind of sad: "The raucous edge is gone from his voice."
Very Rare
, on the other hand, was a pretty ambitious record from Walker: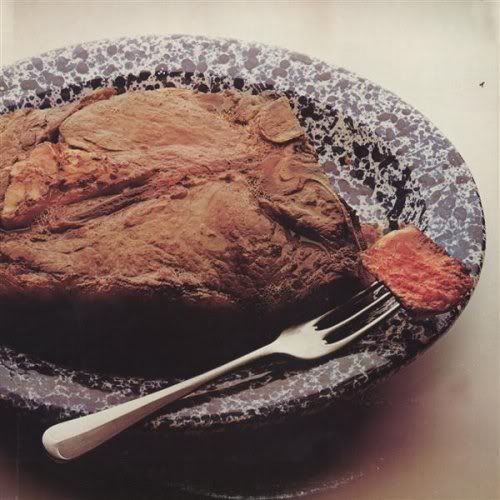 T-Bone Walker - Very Rare (Reprise 6483, 1973)
Side 1
1. Striking On You, Baby (Jerry Leiber, Mike Stoller)
2. Please Send Me Someone To Love (Percy Mayfield)
3. Brother Bill (The Last Clean Shirt) (Jerry Leiber, Mike Stoller)
4. Evening (Harry White, Mitchell Parish)
5. The Come Back (L. C. Fraser)
Side 2
1. Your Picture Done Faded (Paul Howard)
2. Don't Give Me The Run Around (T-Bone Walker)
3. Hard Times (Jerry Leiber, Mike Stoller)
4. Everyday I Have The Blues (Peter Chatman)
5. Person To Person (Charles Singleton, Teddy McRae)
Side 3
1. Fever (Eddie Cooley, John Davenport)
2.
Three Corn Patches
(Jerry Leiber, Mike Stoller)
3. I'm Still In Love With You (T-Bone Walker)
4.
Just A Little Bit
(Earl Washington, John Thornton, Pitney Brown, Ralph Bass)
5. James Junior (Charles Otis)
Side 4
1. Been Down So Long (Jerry Leiber, Mike Stoller)
2.
If You Don't Come Back
(Jerry Leiber, Mike Stoller)
3. Kansas City (Jerry Leiber, Mike Stoller)
4. Well, I Done Got Over It (Eddie "Guitar Slim" Jones)
5. Stormy Monday (T-Bone Walker)
Backing vocals by the
Sweet Inspirations
, too!
From:

http://www.discogs.com/T-Bone-Walker-Very-Rare/release/2091488 This release, one of the last recordings put down by T-Bone Walker two years before his death, is exceptional by design alone.

Produced by Jerry Leiber and Mike Stoller, these 20 tracks were recorded in 1973 with the A-line of early 70's LA session players, quite a number of sidemen already major jazz artists themselves, a big band horn-section and The Sweet Inspirations as the vocal backing.

Musicians like Wilton Felder, Michael Omartian, James Booker, Jom Gordon, Dean Parks and Larry Carlton are heard together with jazz-legends like Dizzy Gillespie, Gerry Mulligan, Zoot Sims, Al Cohn, Herbie Mann and blues singer Charles Brown is heard on piano only.

Throughout the 20 tracks the musicians are shuffled from track to track, which actually makes the records more equal than one could expect - but unfortunately also equally neat, more blues by definition than by feeling.

Here again with a horn section - as he often was on his 50s Imperial recordings - one could have hoped for more of that receipt, slow, toned and soaked in brass, but instead of a late-night club feeling, you end up with a feeling just as was the most likely the atmosphere during recordings: blues by broad daylight.

Impressive credits though.