Sun Jul 13, 2003 10:21 pm
OK - so it starts with Elvis' "Slicin' Sand".

Anyone know if any other Elvis tracks are used in this ?
Mon Jul 14, 2003 1:48 pm
Colin:

Assuming you are referring to the Disney movie Lilo and Stitch, there are several Elvis songs in this film, though sadly not all performed by Elvis. In the US Version of the film the Elvis songs are:

Stuck on You
Heartbreak Hotel
Suspicious Minds
Devil in Disguise
Hound Dog

plus

Can't Help Falling in Love performed by Mark Keali'i Ho'omalu
Burning Love performed by Wynonna Judd

The UK version is the same but Suspicious Minds was replaced with a verion by Gareth Gates and Can't Help Falling in Love was replaced with a version by the A*Teens.

Hope this helps.
Mon Jul 14, 2003 2:40 pm
Stitch The Movie is the sequel to Lilo and Stitch.
Mon Jul 14, 2003 3:08 pm
Stephen -
Thanks for the info.
But, as Deadpool points out, this is a different 'video only' Disney production.
It starts out with Elvis singing "Slicin' Sand".
Stitch was 'experiment 626' in the original film, & in this we find out more about the other 625 !
Just wondered if they were using any other Elvis tracks or songs.
Anyone ?
Mon Jul 14, 2003 3:19 pm
I thought the sequel would be a full movie feature - not a 60 minute video......oh well.
Here's the details - the only song mentioned is "Slicin Sand". There will also be a cartoon series on TV.
Info from elvis world japan: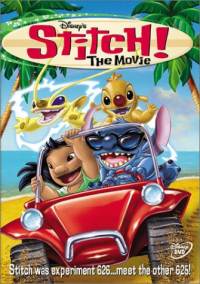 DVD "Stitch! The Movie"
Release Date: August 26, 2003
Disney sets a record for bringing out a direct-to-video sequel after the initial film. Stitch: The Movie arrives only a year after the enjoyable Lilo & Stitch played theaters and reunites the title character (otherwise known as Experiment 626) with his earth-bound family in the warm Hawaiian sun. The story has a nice set-up: since Stitch is Experiment 626, where are the first 625 invented by Dr. Jumba Jookiba? Odds are the island paradise will soon be spaceport central for many more aliens. As with other made-for-video Disney titles, the animation is not as complex or rich. This hurts this sequel even more since the original film had such a unique, pastel beauty. Unfortunately, the other elements of the film are just as flat. Even though most of the original voice cast returns, the entire production lacks the same spirit and charm, and the story's theme is recycled (get ready for more "Ohana means family"). On the plus side, the film starts with an Elvis Presley song,"Slicin' Sand" and is only 64 minutes long. The movie sets up the Disney TV series The Adventures of Lilo & Stitch.
Rich
Mon Jul 14, 2003 3:26 pm
Sorry to mislead you Colin but I haven't got a clue about this one. I gave up on Disney straight-to-video sequels after The Hunchback of Notre Dame II which was truly an awful experience. I won't be bothering with this one. It seems that slicin' sand is the only Elvis song in this one as a cursory nod to the previous film.
Mon Jul 14, 2003 4:32 pm
Disney did this with the Lion King sequel, "Simba's Pride", an 80 minute video release. Strange policy, usually associated with films (not always sequels) that are poor quality and not worthy of a cinema release. A full-length sequel to any of these films mentioned would be a guaranteed cinema success.
Mon Jul 14, 2003 4:41 pm
Deadpool -
In this case, the straight-to-video release of 'Stitch - The Movie' is a precursor to a TV series.
Mon Jul 14, 2003 4:49 pm
As Disney has proven time and time again, these "straight to video" sequels are nothing more than pure old fashioned capitalism. They are hastily slapped together with little effort given to content or quality and in many cases don't even feature the original voices of the characters. For example, while Dan Castellaneta does a great Homer Simpson, he's no Robin Williams in Aladdin 2. They simply want to get a few more bucks from the fans with an inferior product while their advertising dollars are still working for them.

Tom
Mon Jul 14, 2003 5:07 pm
You'd think it'd be better business sense to make a quality sequel (big cinema takings, big DVD sales six months later), and a couple of years after that release a cheaply made third film.
Tue Jul 15, 2003 6:31 am
It seems that Disney pops out another sequel straight-to-video release every other month. I swear there must be about 10 sequels in the last 2-3 years. Of course, I bought them all because I'm an animation fan.
It would make more sense to work a little bit harder at those and release them in theatres. They must have about a dozen films being made at any given time. Unbelievable!!
By the way, has anyone seen "Spirited Away"? Not a Disney film but an interesting Japanese animated film distributed by Disney.

jeff R