Burning Love wrote:look at those Sun stars.

I am almost sure they depict Elvis singing. This is the first time we get to see on film all of those early Sun guys interacting with themselves. I am sure it will not be that long, but they must deal with it in some depth. Who knows maybe they take a shot at the Million Dllar Quartet, although I don't know how they could since Johnney was reported to leave to uy Christmas presents.

I can only speculate at this point but if they do it correctly they might depict the flatbed Katz Drug store performance. That was the first time Johnny saw Elvis perform and no doubt helped draw him to SUN.
Since Roy is depicted in the film they might show their first meeting while Elvis and Johnny performed in Odessa and he asked Johnny how to get a record published. Johnny told him to call Sam Phillips so he did and Sam said "Johnny Cash doesn't run my record company!"
I saw some stills awhile back that appeared to be the "Million dollar quartet" but it was innacurate with Roy in it. Don't know if that was just promotional though.
Here's one of them.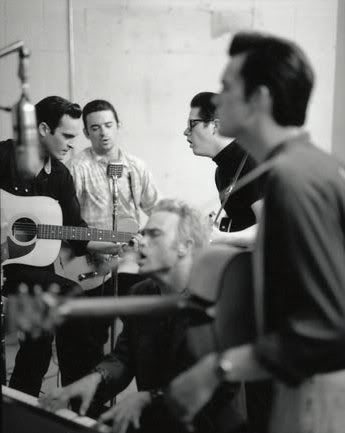 Roy and Waylon but no Carl?
We'll find out tomorrow.
Jim
Jim