Sun Nov 13, 2005 4:10 am
Has anyone seen a photograph of Elvis from the summer engagement at the Hilton where he's reading passages out of the book written by John O'Grady? Has anyone here on the board read this book? Is it a worth getting if one can find a copy? Thanks
Sun Nov 13, 2005 4:26 am
A photo of Elvis reading from the book appeared in one of Sean Shaver's "Elvis Book" volumes.

O'Grady's history with Elvis (investigating the paternity suit, contributing to Elvis' fascination with police badges and law and order, and attempting to identify and block the sources of prescription drugs) has been documented in several books. Goldman and Guralnick used O'Grady's book as a source.
Sun Nov 13, 2005 4:58 am
Anyonehere have a photo of this that they can post?
Mon Nov 14, 2005 5:39 am
love the jumpsuit! what year is that from?
Mon Nov 14, 2005 6:13 am
Aug/74
Mon Nov 14, 2005 6:14 am
looks like to me a picture taken at the Las Vegas 1st September 1974 show.....
Mon Nov 14, 2005 6:19 am
You're right. I have some excellent video of this show. Here's another pic.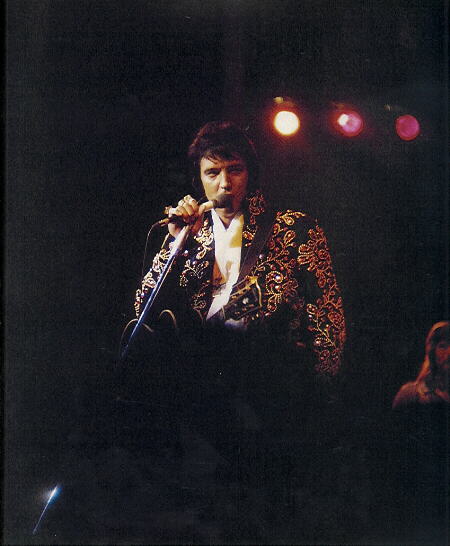 Mon Nov 14, 2005 6:21 am
Leave it to the Funky Angel!!!!! You're a true asset to this MB my friend.
Mon Nov 14, 2005 9:24 am
Are there any on stage photos of the White Spansih Flower suit?
Mon Nov 14, 2005 5:57 pm
Truly awesome pics. Thanks Rob and Funky Angel.
Mon Nov 14, 2005 6:42 pm
This jumpsuit was once on display at the Hard Rock Cafe in NYC. It was draped over a throne, which was at the top of a staircase, suspended over the restaurant floor below.

The belt was dangling from the chair. If you stretched, you could touch the belt while standing on the stairs.

There was no protection for the costume at all. I wonder what became of it?
Mon Nov 14, 2005 6:48 pm
Has anyone ever read the book?

I heard that O'Grady drops a lot of names.
Mon Nov 14, 2005 8:05 pm
I think the first shot was a CD album cover on Top Acts Vol 4. That CD featured Sept 3rd 1973, but that of course indicates nothing!!