Sat Jun 21, 2003 9:50 pm
I was wondering if any of you know of any photo books that had good a bunch of pictures of Elvis on stage in the American Eagle suit - it's my favorite suit of his and I don't have many pictures of him in it.

Thank you,

Darrell
Sun Jun 22, 2003 11:34 am
Hi Darrell,

Check out the Elvis In Hawaii site for several internet pics.
And you should have a look at the It's Elvis Time site. In their shop section, look up books and on page two there's one about the Aloha show. I bet there are a lot of pictures in that one.

Sonny
Sun Jun 22, 2003 9:23 pm
Hey Sonny,

Thanks Sonny, but you're talking about the Aloha suit. The suit I'm talking about is called the American Eagle suit. It's completely different and I think a lot prettier.

Darrell
Mon Jun 23, 2003 7:31 am
The American Eagle suit is indeed my favorite as well. For pictures it is a kind of hit and miss as he did not wear this suit very often. I have quite a few saved on my hard-drive and also some close up shots from Graceland when the suit was display last year. Photographer George Hill has some great shots of Elvis in the suit, so contacting him may be an option you might want to explore. I bought several sets from him in Memphis last year and they are very nice.
There is also some video of Elvis wearing the American Eagle suit on "Return to Splendour" and also "California Gold" taken from Los Angeles 1974. Rather lengthy pieces and complete with sound.
Steve
-There was an autographed photo of him in this suit posted on this board not too long ago. I believe the autograph was to Dr. Hinton and the shot is stunning.
Mon Jun 23, 2003 7:15 pm
Yep, you're right there, Darrell!

Was drinking a couple of beers and trying to be helpful yesterday...

Didn't work.

Bye, Sonny
Mon Jun 23, 2003 8:04 pm
Here's a few: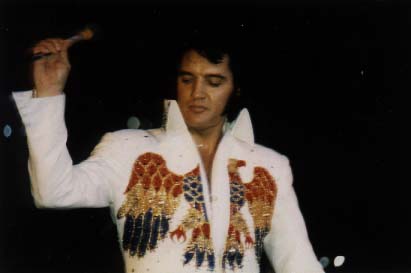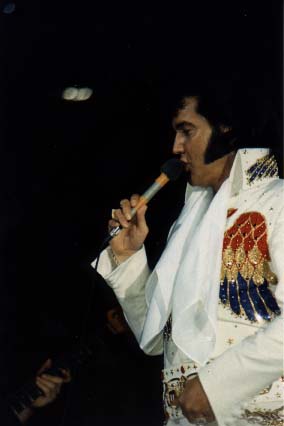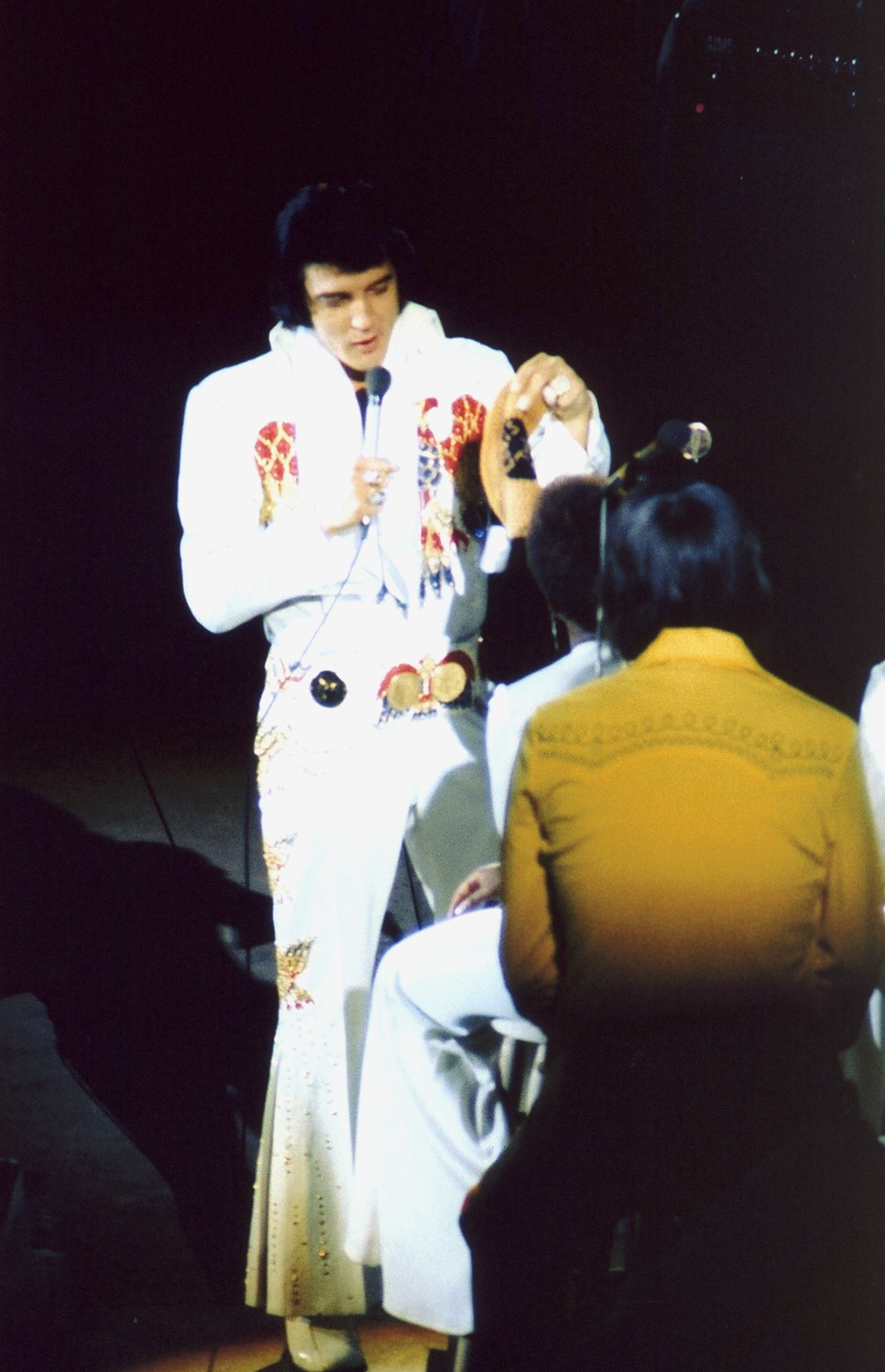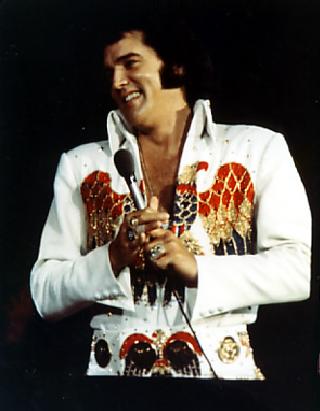 (photos courtesy of FECC and elvisconcerts.com)
Mon Jun 23, 2003 8:06 pm
This is my favorite jumpsuit as well!. If you can find a copy of the original "Elvis In Concert" album, not the CD. When you open up the gate-fold sleever there are 2 fantastic pictures of Elvis in this suit. Hope this helps. Also there is a nice shot of him wearing it on the back of the new re-issue of "Promiced Land" CD.
JEFF d
EPFAN!
Mon Jun 23, 2003 9:22 pm
Thanks for the responses,

I've seen the pictures that have been posted and also the ones that are on the different CD's. I'm just longing to see more. How do I get hold of George Hill? Does he have a website?

Darrell
Tue Jun 24, 2003 6:44 am
UF - framing a cut sig. with that particular shot would be VERY IMPRESSIVE INDEED! I've done the same with one of the pics Jeff d. talks about from the EIC album -
very, very nice!
Properly framed ......... what once was just an ordinary signature is transformed into a work of art that will take your breath away - worthy of a spot on any museum wall.
N8
... just a fan ....
Tue Jun 24, 2003 8:32 am
unclefester wrote:...I don't see the purpose of having stuff rolled up in a tube...tucked away in a closet....or stored under the bed.

Very much in agreement here. No sense in having anything just for the sake of "having" it. Use it, display it for all to see, .......... ENJOY IT!! I don't buy any of my stuff for re-sale value or investments ............ purely for the sake of enjoyment. That's just me, though.
unclefester wrote:... I replied...."Yes Dear....I bought them for YOU!!" Do you think she believed me?........uf
HAHAHAHAHAHAHAHA!!
I hope you
DUCKED
after you said it . . . . .