Terrific conversation here...! I've learned that some of the better
discussions that I had put in "Off-Topic" really do belong over here,
even if Elvis is only part of the overall thread.
It seems various oxes are being gored, so I can see that personal taste
is entering into this now.
I have long leaned toward what Kiwi is saying in favor of the "British
Invastion" but LTB and Colin B point out, it's just not that simple
anymore -nor was it ever.
Objectively, they did "sweeten" the sound in the early '60s, but
as the article points out, these were largely New York Jewish
songwriters (Leiber & Stoller, Doc Pomus, etc.)
also had classical training AND had an ear to what
was going on then in the black and Puerto Rican community.
To combine that was pure genious and we have to "deal" with it.
One may not like the Drifters but you have to admit it was quite
a concoction.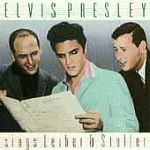 I originally posted only the link to Ken Emerson's own op-ed piece, but
here it is in full:
Here's the link to the similiar piece in the LA Times just penned by Emerson himself called:
http://www.orlandosentinel.com/news/opi ... -headlines
OTHER VIEWS

The rock 'n' roll bridge:

Great music between Elvis and the Beatles
by Ken Emerson
Special to Los Angeles Times, October 29, 2005
In 1957 and 1958, rock 'n' roll took a tumble. Elvis Presley entered the Army. Jerry Lee Lewis was banned from the airwaves for having taken his 13-year-old third cousin as his third wife before his second divorce became final. Buddy Holly was killed in a plane crash, Little Richard got religion and Chuck Berry was arrested for "motor-vatin"' across state lines with an underage girl.
Understandably, this plunged American record companies into a state of serious consternation. Rock 'n' roll hadn't been around very long, but its potential was already clear: When Presley entered and dominated the charts in '56, record sales rose by roughly $100 million from the previous year's $227 million. The market: roughly 13 million teenagers.
But if the interruption of these rock 'n' roll stars' careers was worrisome, it also provided an opportunity. After all, early rock 'n' roll had been a little unruly -- a little too dangerous, a little too black, a little too unpredictable. If profits were to be maximized, record companies realized, the market had to be consolidated and the product "commodified."
"All the major labels had people on staff who produced records," recalls songwriter and producer Richard Gottehrer, explaining that most of them were so incapable of re-creating rock 'n' roll that they had to say, "Oh, get those kids from down the street."
As often as not, "down the street" was the Brill Building at 1619 Broadway in New York City and another, nameless building a stone's throw away at 1650. Here, huddled in cubicles, songwriters including Jerry Leiber and Mike Stoller, Doc Pomus and Mort Shuman, Burt Bacharach and Hal David, Neil Sedaka and Howard Greenfield, Carole King and Gerry Goffin, Barry Mann and Cynthia Weil, and Jeff Barry and Ellie Greenwich routinized the creation and production of rock 'n' roll in the late 1950s and early '60s.
They smoothed the rough edges of black R&B performers to help them appeal to a white audience, and they roughed up white performers just enough to create a tousled titillation. Reining in the unruliness of rock 'n' roll made it safe for teenage America and profitable in the mass marketplace.
The music of the Brill Building era is often disparaged as a dormant period between the eruption of Elvis and the British invasion that the Beatles spearheaded. Bob Dylan has dismissed it as "pretty sleepy" and "filled with empty pleasantries." Paul Simon once said that rock 'n' roll got "very bad in the early '60s, very mushy."
Yet such "empty pleasantries" as "On Broadway," "Save the Last Dance for Me," "Walk on By," "Breaking Up Is Hard to Do," "Will You Love Me Tomorrow" and "Be My Baby" have proved extraordinarily perdurable.
King and Goffin's "The Loco-motion" has been a Top 10 hit single as recorded by three different artists in three different decades. Mann and Weil's "You've Lost That Lovin' Feelin"' (written with Phil Spector) is the most frequently played song in the BMI catalog (which includes the Beatles' greatest hits).
If these composers cranked out tunes on an assembly line, many of their widgets turned out to be masterworks of popular music.
Most of these writers were born in Brooklyn, virtually all of them were Jewish, and they enriched rock 'n' roll by widening its sphere of reference to embrace classical music (Bacharach studied with Darius Milhaud, Stoller with Stefan Wolpe), the Great American Songbook (Sedaka hung out with Irving Caesar, the lyricist of "Swanee" and "Tea for Two") and Broadway musicals (West Side Story helped inspire Goffin and King's "Up on the Roof").
Infusing with the music of their elders the music of their own age, they added string arrangements. And, at the peak of Puerto Rican immigration to New York City, they gave a Latin twist to African-American R&B. Much of their music rocks or sways to a cha-cha, "baion" or bossa nova beat. An enduring appeal of these songs is their racial and ethnic integration -- and how irresistible they make such integration sound.
The British invasion, the advent of the singer-songwriter and the rise of black-owned record companies such as Motown brought the Brill Building era to an end in the mid-1960s, yet all these events owed considerably to the tunesmiths of midtown Manhattan. Goffin and King were models of songcraft to Lennon and McCartney. Records such as "Lovin' Feelin'," "Make It Easy on Yourself" and "(You Make Me Feel Like a) Natural Woman" helped define modern soul music, black as well as blue-eyed. And the social consciousness of songs like "Uptown" paved the way for the protests of Dylan and his acolytes.
The music of the Brill Building and 1650 Broadway may not last, like the lovers' bliss in Pomus and Shuman's "This Magic Moment," "forever 'til the end of time," but it reverberates to this day.
[size=9]Ken Emerson is the author of "Doo-Dah!: Stephen Foster and the Rise of American Popular Culture" and "Always Magic in the Air: The Bomp and Brilliance of the Brill Building Era."
***********************
Two footnotes of my own:
*Interestingly, Burt Bacharach (writer of "Raindrops Keep Falling On My Head, sung by B.J. Thomas- who himself first hit with "I Just Can't Help Believin' "....) just collaborated with Dr. Dre in his first
ever political album which is openly anti-Bush administration.
**From the article: " Mann and Weil's "
You've Lost That Lovin' Feelin"'
(written with Phil Spector) is the most frequently played song in the BMI catalog (which includes the Beatles' greatest hits)."
I'd forgotten: this song as done by Elvis is
another
link of the King
to the "Brill" era!
Last edited by Gregory Nolan Jr. on Wed Nov 02, 2005 9:49 pm, edited 3 times in total.