Mon Jun 16, 2003 8:55 pm
I want to possibly start a compliation CD of "LIVE" Elvis "rockers", and yeah, I mean those done while Elvis was A-LIVE!
One of my favorites is Polk Salad Annie off of "From Sunset Blvd. To Paradise Road" & " If You Talk In Your Sleep". This October 1974 version of "Annie" is 100% pure HIGH octain energy from start to finish!!! The horn section is tight and blaring and Ronnie Tutt and Duke, D-double O-K, Bardwell shine on this cut. It has a totally different vibe to it than other versions I have heard. So, along that same vein, what are some of your favorite live "rockers" and where can they be found/heard. Thanks in advance! Peace!
Mon Jun 16, 2003 9:23 pm
I've always loved the Mystery Train/Tiger Man medley.
One of my favorite versions is from the "Elvis Aron Presley" 1980 box set - from the 1975 concert disc. It just rocks
Rich
Mon Jun 16, 2003 9:51 pm
1) Johnny B Goode (Aug '69 Memphis to Vegas)
2) Mystery Train / Tiger Man (ditto)
3) Blue Suede Shoes (TTWII Aug '70)

Anything where James Burton really cuts loose!! On the above they were both at the top of their game.....
Mon Jun 16, 2003 11:02 pm
"Blue Suede Shoes"


Milton Berle Show
Aboard USS Hancock
April 1956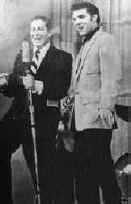 "Ready Teddy"


Ed Sullivan Show
January 1957






"Jailhouse Rock"


NBC-TV Burbank Studios
June 1968






"Johnny B. Goode"


International Hotel, LAs Vegas, NA
August 1969
(Photos courtesy of "History of Rock", "eonline", "elvis-lives" and "www.elvisconcerts.com")
Last edited by elvis-fan on Tue Jun 17, 2003 12:12 pm, edited 1 time in total.
Mon Jun 16, 2003 11:58 pm
The best live rockers from the 69-77 TCB band period are: Johnny B. Goode and My Babe (1969); Mystery Train/Tiger Man (69 & 70); C.C.Rider, Polk Salad Annie, Long Tall Sally (1970); A Big Hunk O' Love (1972). I particulary like the Opening Night 72 version of Big Hunk. He sings the first line with a 68 comeback type of rough voice.
Tue Jun 17, 2003 11:29 am
Promised Land
CC Rider (jan/feb 70 version)
Big Hunk O'Love...
Tue Jun 17, 2003 11:31 am
and why he never did "I Washed My Hands In Muddy Water" live?
The unedited master is probably my favourite Elvis rocker of all time.
He kicks more ass in that track that any of the other "hot" rock groups at the time combined.
IMO of course.
Tue Jun 17, 2003 1:05 pm
Love the live versions of "Promised Land", always liked this record.

Does anybody know the complete words to it.
Tue Jun 17, 2003 1:24 pm
Promised Land Lyrics by Elvis Presley

Artist: Elvis Presley

Lyrics:

I left my home in Norfolk Virginia
California on my mind
I straddled that Greyhound
And rode into Raleigh
And on across Caroline

We had motor trouble that turn into a struggle
Halfway across Alabam'
And that hound broke down and left us all stranded
In downtown Birmingham

Right away I brought me a through train ticket
Ridin' across Mississippi clean
And I was on that midnight flyer out of Birmingham
Smoking into New Orleans

Somebody help me get out of Louisiana
Just to help me get to Houston Town
There are people there who care a little about me
And they won't let the poor boy down

Sure as you're born brought me a silk suit
Put luggage in my hand
And I woke up high over Alberquerque
On a jet to the promised land

Working on a T-bone steak a la carte
Flying over to the golden state
Ah when the pilot told us in thirteen minutes
He would set us at the terminal gate

Swing low chariot come down easy
Taxi to the terminal zone
Cut your engines and cool your wings
And let me make it to the telephone

Los Angeles give me Norfolk Virginia
Tidewater four ten o nine
Tell the folks back home this is the promised land calling
And the poor boy is on the line

Working on a T-bone steak a la carte
Flying over to the golden state
Ah when the pilot told us in thirteen minutes
He would set us at the terminal gate
Tue Jun 17, 2003 1:32 pm
Joe Lightcloud wrote:Love the live versions of "Promised Land", always liked this record.
Promised Land IS a great song. Just listened to it in the morning to get the day started. The song rocks. Something I can't really find in the live version.
Something's missing there but I don't know what. There's no spark let alone the fire the original version has. One of the reason I can't stand most of the live version is Duke Bardwell's awful bass playing BTW.
Tue Jun 17, 2003 2:33 pm
True, Elvis's live version isn't a patch on the studio, but it's still ace. I love the song, always have, even Chuck Berry's version.

Thanks Del. for the words... WELL DONE, have you got them out of a book or did you know 'em.

P.S. I think I told you before but never mind, am gonna tell you again. Fools and Horses as got to be one of the best comedies about, along with Steptoe and Son.. Lovely Jubbelly
Tue Jun 17, 2003 2:49 pm
How about "Burnin' love".
Tue Jun 17, 2003 2:56 pm
There's a lot of good lyric sites on the Net. Two of the best are:
http://www.geocities.com/SunsetStrip/Ba ... yrics.html
http://www.absolutelyric.com
I also thought 'Patch it Up' worked well on stage...
Tue Jun 17, 2003 3:36 pm
That's where you got the words from, is it.
Tue Jun 17, 2003 6:32 pm
Johnny B. Goode and Big Hunk. Especially Big Hunk from "Opening Night 72'". As for Johnny B., I prefer the more traditional arrangement post 1969 to the 69 version. Another great rocker for me is Let Me be There from "Desert Storm" or "Night Fever" or anytime he changes the vocal cadence of that song and "screams" the words.
Promised Land live I think had too much piano and not enough drums. Also seems the only time James can be heard is when the guitar solo kicks in. The version from Norfolk, VA however sounds like it could have kicked A..
Why, oh why are there no soundboards from July 1975??????? There must be at least one!
Steve
Tue Jun 17, 2003 7:23 pm
T.R.O.U.B.L.E. , performed live in 1975. Big Boss Man also rocked. Plus others already mentioned, particularly Mystery Train/Tiger Man in August 1970.
Tue Jun 17, 2003 7:58 pm
Hi guys,

Little Sister / Get Back, Las Vegas 1970 - TTWII special edition CD box

That one is just great, with Elvis playing guitar. Nice rockin' medley.

Sonny
Wed Jun 18, 2003 10:06 pm
The Hawaii recordings from 61 had been of better sound quality, I would go for one of those!
But, since I like Elvis to sound good, I go for these:
Tiger Man - NBC '68
Johnny B. Goode - IN PERSON
My Babe - IN PERSON
Tiger Man/Mystery Train - IN PERSON
See See Rider - ON STAGE (original)
Polk Salad Annie - more than one favourite
Proud Mary - MSG '72
Flip, Flop & Fly/Mama Don't Dance -medley- LIVE ON STAGE IN MEMPHIS '74