Tom Diskin was Ed Bonja's uncle.
The FECC memorabilia section (thanks) features quite a few letters,
such as this one.
http://tinyurl.com/duk65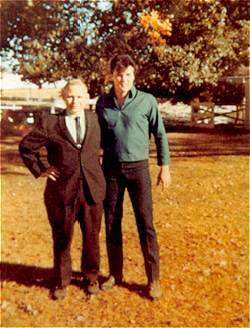 courtesy of Elvis World - Japan
Front row - Colonel Parker (Santa suit), Gene Smith. Back row Bitsy Mott, Joe Esposito, Red West, Tom Diskin, Sonny West, Alan Fortas, unknown.
and during my research I found this message posted by CarolCervenka on the Elvis 2001 MB:
Hi. Tom Diskin was my uncle, Mary and Patti my aunts. I am the co-trustee of the combined estates of Patti and Mary. Uncle Tom was NOT Elvis' accountant. Elvis had an accountant. Tom Diskin and Col.Parker were already a team starting in the early 50's (The "Jamboree Attraction" days pre-Elvis) on till Cols. death. Uncle Tom spoke very highly of Elvis and was extremely protective of him and his family. He was a humble, funny guy and he DID prefer to stay in the background and when they put his name up on the marqee in Vegas as producer, he made them remove it. (I came across a pic of the marquee before he made them take it down) He has been called 'the diplomat of diplomats' and was well liked by all who knew him. He was on every film location and at the recording sessions and stage managed many of the shows but still never gave an interview. My aunts Mary and Patti ran the Madison TN. office from the time Elvis began working with Col. and Tom Diskin until Colonel's death. Col. called Mary 'Big Chief' or 'Front Seat' and everything went through that office. (Some of you may remember the Covered Wagon stationary with PO Box 417 and,later, PO Box 220.) Anyway, I just thought I'd set that straight about Tommy's being the accountant. Thank you, thank you vera much.