elvis-fan wrote:

highlights of the show included on this release are the introductions Elvis has a poke of fun at poor old J.D Sumner, and funny version of "Happy Birthday" dedicated to one of Jackie Kahane's daughters, and hinted in the liner notes this recording came from him too.
There is actually a pretty neat story that goes along with the birthday issue.
Jackie's daughter was celebrating her birthday on this night and Elvis sang to her. After the show Jackie mentioned to the sound engineer that he would like to have the tape recording of this show as a souvenir since Elvis sang to his daughter. Jackie was told
absolutely not!
He then mentioned to Elvis that he would like the tape but was told that he couldn't have it. Elvis told Jackie not to worry about it. Within minutes, Elvis personally handed the tape to Jackie.
Thanks to Elvis' actions, we now have the (incomplete) soundboard show available to us.
Man, I wish he'd have put his foot down on a few other things.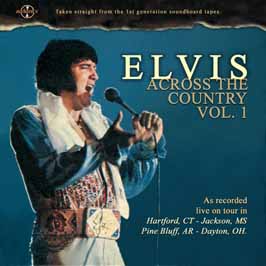 Recorded live.
Hartford, Connecticut, July 28, 1976 (8:30 PM)
Tracklisting
Also Sprach Zarathustra / C. C. Rider / I Got A Woman - Amen / Love Me / If You Love Me (Let Me Know) / 06. You Gave Me A Mountain / Band Introductions / Early Mornin' Rain / Chickin'Pickin' - What'd I Say / Johnny B. Goode / Drums Solo (by Ronnie Tutt) / Bass Solo #1 (Blues - by Jerry Scheff) / Bass Solo #2 (Battle Of New Orleans - by Jerry Scheff) / Piano Solo (by Tony Brown) / Electric Piano Solo (by David Briggs) / Love Letters / School Day (Hail Hail Rock'n'Roll) / Happy Birthday (to "Kitten" Kahane, daughter of comedian Jackie Kahane) / Hurt (with last part reprise) / Hound Dog / Can't Help Falling In Love / Closing Vamp / Announcements
Jackie Kahane speaks out in Jim Neighbors TV show, 1978 (03:00)
My Heavenly Father Watches Over Me (sung by Kathy Westmoreland) / Mystery Train - Tiger Man
Pine Bluff, Arkansas, September 8, 1976 (8:30 PM)
Blue Christmas (Elvis on acoustic guitar) - Jingle Bells (instrumental, by the band) / How Great Thou Art / Monologue / Can't Help Falling In Love (incomplete)
Jackson, Mississippi, September 5,1976 (8:30 PM)
Big Boss Man / The Wonder Of You / Lawdy Miss Clawdy / That's All Right, Mama (with false start, Elvis on acoustic guitar) / Hawaiian Wedding Song (with last part reprise) / Johnny B. Goode
Dayton, Ohio, October 6, 1974 (8:30 PM)