Wed Jun 11, 2003 2:23 pm
This was taken the night before the now legendary "Pittsburgh" New Years eve show. Though EP's face looks a bit heavy he does look much thinner then a lot of pictures from 76. Any reviews of this particular concert from Atlanta? I ask only because I'm wondering if this performance kind of motivated him for Pittsburgh. I know he loved playing in Atlanta having performed there many times.
Thu Jun 12, 2003 1:00 am
For whatever reason, Elvis' performances between 27 and 31 December were motivated by the presence of girlfriend Ginger Alden. By all accounts, Atlanta on the 30th was excellent -- by 1976 standards.
Thu Jun 12, 2003 1:19 pm
Thanks Dr for the info. It goes to show what people have said for years that he needed a challenge, when challenged he seemed much more focused from his music all the way to his physical appearance. At this time just before 77, given that Elvis had lost weight, come off some very good performances (had the Colonel been as sharp as he once was and spotted this) touring Europe might have been what EP needed at this point in his life. We can only imagine had they lets say planned a tour of Europe for February of 77 which would have given Elvis a month to get physically ready, it might have changed his life and he'd be with us today. Hindsight sometimes can be maddening.
Sat Jun 14, 2003 1:38 am
Elvis needed far more than eight weeks.

The "colonel" should've planned Europe for spring 1978 and told Presley to use ALL of 1977 to "gear up" physically, mentally and musically.
Sat Jun 14, 2003 1:51 am
For more articles just check out http://www.elvisconcerts.com
CONCERT DATE: December 30, 1976. Atlanta, GA

The Atlanta Journal
December 31, 1976

Elvis Is Back - Slimmer, Healthier Presley Shows Adoring Fans He's In Top Form Again
By Scott Cain


There's good news for Presley fans: Elvis is back in the groove.

This Thursday show at the Omni was tops, the best possible year-end present for his Atlanta fans.

From a vocal standpoint, Elvis was operating at his peak, both in tonal quality and exertion. He has lost a little weight and looks much healthier than he did last June. His vitality is restored and he was full of pep. Furthermore, he was in a good mood. He was giving his best and knew it, adding a wonderful aura of self-confidence to the show.

The concert was unique in many respects. You haven't lived until you have seen the king of rock 'n' roll lying flat on his back on the stage. And who would ever have thought that the king of rock 'n' roll could be upstaged while in just that position?

This happened while Elvis was giving a particularly powerful rendition of "Hurt." He was going through an elaborate display of theatrics, culminating in a swirling motion in which he revolved closer and closer to the floor, finally lying down.

This brought a wild ovation, during which a determined mother pushed her young daughter, perhaps 6 years old, onto the platform. The girl boldly stalked up to Elvis, who was still prostrate. Elvis took this interruption in stride, bestowing a warm hug on the child.

The program also was unusual in that Elvis revealed himself as an acceptable pianist. He plopped down at the keyboard and accompanied himself as he sang a lovely version of "Unchained Melody." His piano playing which consisted largely of a few simple chords, has more in common with saloon technique than with Horowitz, but it was still an expected bonus.

Elvis gave an uncommonly long performance. He did 25 songs in more or less full form, plus snippets of numerous others. His part of the show lasted an hour and a half, which is substantially longer than has been his custom.

There were virtually no lags, either. Elvis stopped one song because he felt the tempo was wrong and he halted another because he was having trouble getting into the same key as his band, but these were only minor lapses.

Hie repertoire ran the gamut. He opened with "C.C. Rider," and performed such Presley classics as "Jailhouse Rock," "That's All Right, Mama," "Hound Dog," "Amen," "It's Now or Never," and "Fairy Tale."

Elvis shrewdly built the momentum of the performance, and the core of the show was centered on his no-holds-barred interpretations of "My Way," "Working on the Chain Gang," "Early Morning Rain," and "Love Letters."

The Presley audience was beside itself with glee. The fanaticism of his fans has reached such a peak that Elvis sometimes has difficulty staying in control of the situation.

He was able to restrain the fury somewhat. He has sharply reduced the scarf-giving and the kissing. He gave away about 15 scarves and kissed only three or four of his feminine admirers.

He did not accept as many gifts from the audience as he has done previously, but the ones he got were notable for their diversity. One girl gave him something that looked like a shrunken head. It had a tongue that went in and out and, when a string was pulled, emitted a hideous laugh.

Still another fan had baked Elvis a two-layer birthday cake, with a king's crown on top and an abundance of flaming candles all around. When Elvis accepted this donation. The audience warbled "Happy Birthday" to him, even though he will not be 42 until next month.

The concert had been sold out weeks in advance and Elvis reassured his squealing fans that he will return any time they want him.

The most notable member of the audience was the defeated candidate for the office of mayor of Plains, Georgia. When Billy Carter entered the auditorium during intermission, he attracted as much attention as Jacqueline Onassis did in her heyday.

Courtesy of Linda Helm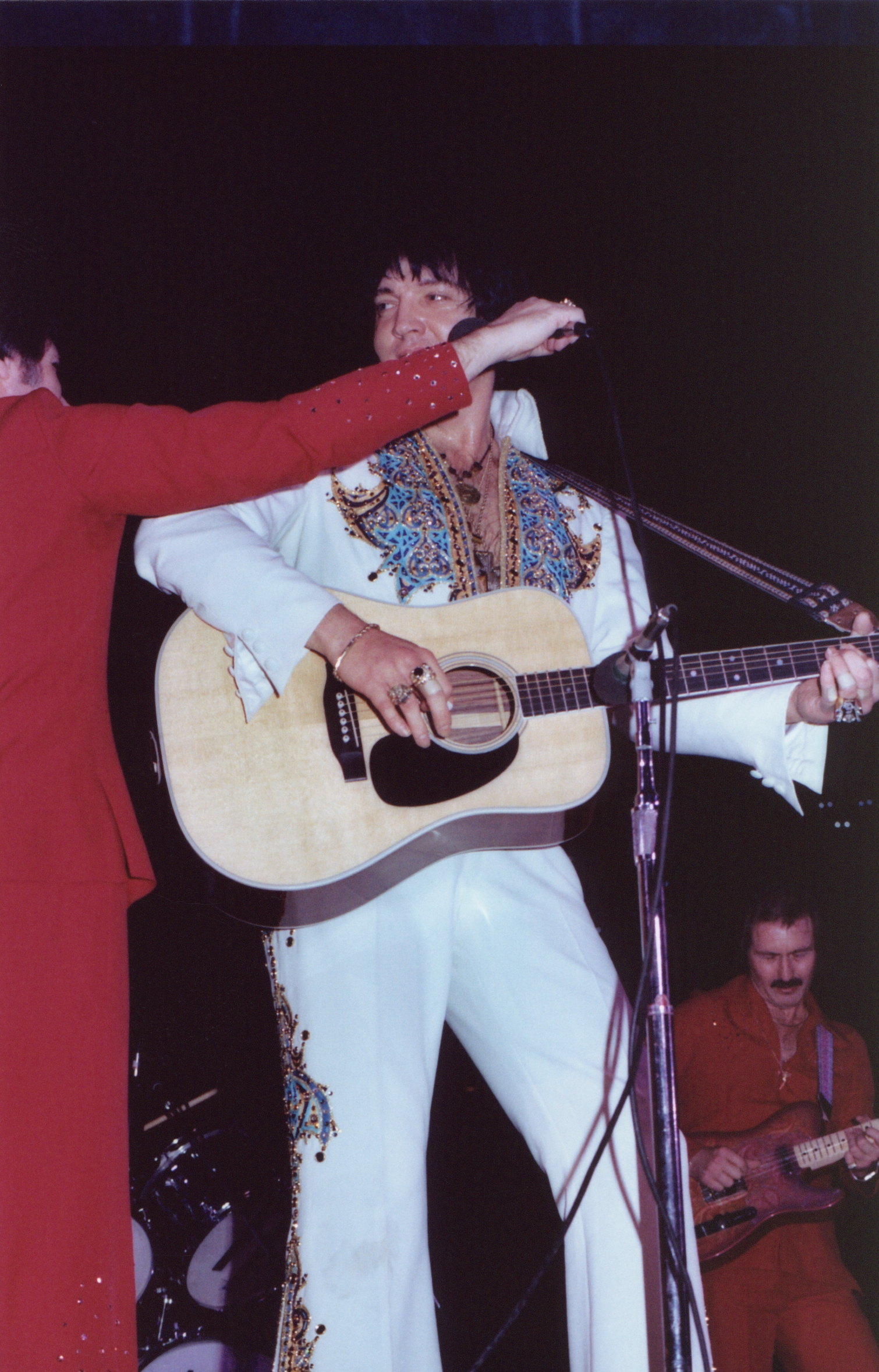 Sat Jun 14, 2003 2:07 am
"Working on the Chain Gang"? I doubt that's right. Perhaps "Unchained Melody" is what was meant. Nice review overall, though.
Sat Jun 14, 2003 2:27 am
"Her Mamma was a workin' on the chain gang,Polk salad Annie" ?
Sat Jun 14, 2003 3:52 am
By jove, I think that is correct -- good guesswork, Dan.
Sat Jun 14, 2003 3:58 am
That's not surprising, this person isn't the only one to make that mistake - on the Laserdisc version of "That's The Way It Is" I have, it says "Chain Gang" when it really means "Polk Salad".

You'd think MGM would know their product better.. lol
Sat Jun 14, 2003 1:28 pm
Thanks for the review Albert.